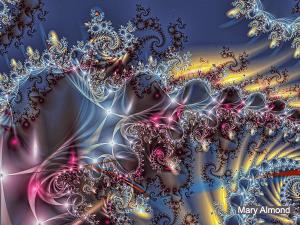 West Virginia artist Mary Almond, is having a solo digital art show at the Ohio University Proctorville Center.
The show will run through the middle of October 2014, and features 37 framed, and matted digital artworks throughout the center's hallways.
The featured artworks consists of her futuristic landscapes, and fractal creations.

As an outsider, and new wave artist, Mary finds inspiration in translating traditional art into the digital world of artistic expression.
But no matter whether she is capturing an image in photography, or forming a totally digital creation, you can count on the art being filled with clarity, bold colors, crisp contrasts, and a touch of surrealism

Mary Almond, is an award winning, internationally selling Fine Art Photographer & Digital Artist, whose art has been featured in publications, and magazines throughout the U.S..